Japanese Style Deep Fried Shrimp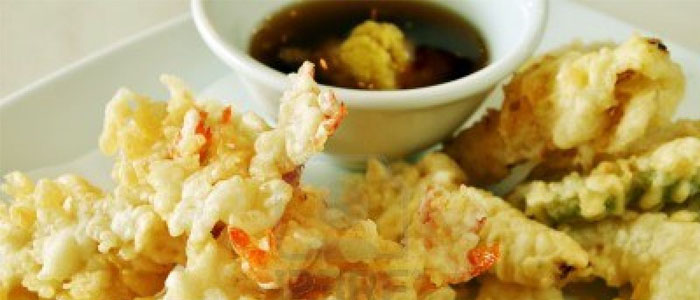 ---
| | | |
| --- | --- | --- |
| Cuisine | : | Japanese |
| Calories | : | 630 |
| Type | : | Non Vegetarian |
| | | |
| --- | --- | --- |
| Serving Size | : | 4 |
| Course | : | Appetizer |
| Preparation Time | : | 20 Min |
---
INGREDIENTS
| No | Ingredient | Quantity | Measure Type |
| --- | --- | --- | --- |
| 1 | Shrimp | 1 | Pound |
| 2 | Salt | 1/2 | Teaspoon |
| 3 | Black pepper | 1/2 | Teaspoon |
| 4 | Garlic powder | 1/2 | Teaspoon |
| 5 | All-purpose flour | 1 | Cup |
| 6 | Paprika | 1 | Teaspoon |
| 7 | Egg | 2 | |
| 8 | Panko crumbs | 1 | Cup |
| 9 | Vegetable oil | 1 | Quart |
---
Recipe Details
Shrimp are seasoned and coated with crispy panko crumbs to make the easiest, tastiest deep-fried shrimp ever .
---
Cooking Instructions
Place the shrimp in a bowl and season with salt, pepper and garlic powder. In a small bowl, stir together the flour and paprika. Place eggs and panko crumbs into separate bowls.

Heat the oil in a deep-fryer or deep skillet to 375 degrees F (190 degrees C). Dip each shrimp into the flour mixture, then into the egg, and finally into the panko crumbs to coat. Fry a few at a time until golden brown. This should take no longer than 5 minutes.
---
Garnishing Instructions
Not available.
---
Serving Instructions
Remove with a slotted spoon and drain on paper towels before serving.
---