Japanese Beef Stir-Fry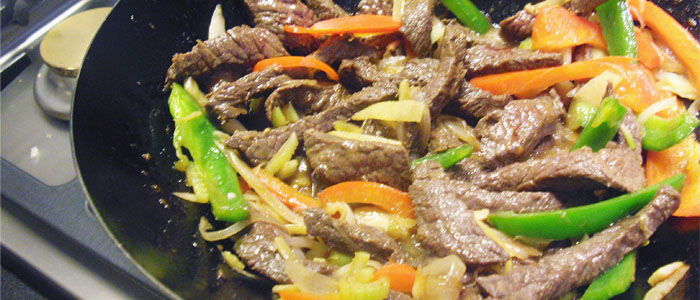 ---
| | | |
| --- | --- | --- |
| Cuisine | : | Japanese |
| Calories | : | 290 |
| Type | : | Non Vegetarian |
| | | |
| --- | --- | --- |
| Serving Size | : | 8 |
| Course | : | Main |
| Preparation Time | : | 30 Min |
---
INGREDIENTS
| No | Ingredient | Quantity | Measure Type |
| --- | --- | --- | --- |
| 1 | Beef top sirloin | 2 | Pound |
| 2 | Cornstarch | 3 | Tablespoon |
| 3 | Condensed beef broth | 10 & 1/2 | Ounces |
| 4 | Soy sauce | 1/2 | Cup |
| 5 | Sugar | 2 | Tablespoon |
| 6 | Vegetable oil | 2 | Tablespoon |
| 7 | Mushrooms | 4 | Cup |
| 8 | Chinese eggplants | 1 | |
| 9 | Red bell pepper | 2 | |
| 10 | Celery | 3 | |
| 11 | Green onion | 3 | |
| 12 | Long grain rice | 2 | |
---
Recipe Details
Tender beef strips are quickly stir-fried with crisp and colorful vegetables to make this delicious restaurant-style dinner in your own kitchen.
---
Cooking Instructions
Slice beef into very thin strips.

Mix cornstarch, broth, soy and sugar until smooth. Set aside.

Heat 1 tablespoon oil in saucepot or wok over high heat. Add beef in 2 batches and stir-fry until browned. Set beef aside.

Add 1 tablespoon oil. Add the mushrooms, cabbage, peppers, celery and green onions in 2 batches and stir-fry over medium heat until tender-crisp. Set vegetables aside.

Stir cornstarch mixture and add. Cook until mixture boils and thickens, stirring constantly. Return beef and vegetables to saucepot and heat through.
---
Garnishing Instructions
Not available.
---
Serving Instructions
---