Indian Tangy Rice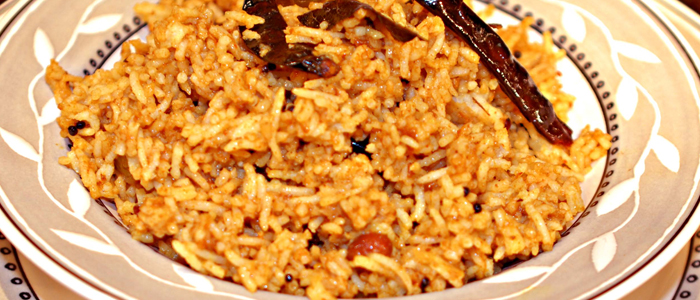 ---
| | | |
| --- | --- | --- |
| Cuisine | : | Indian |
| Calories | : | 349 |
| Type | : | Vegetarian |
| | | |
| --- | --- | --- |
| Serving Size | : | 6 |
| Course | : | Main |
| Preparation Time | : | 40 Min |
---
INGREDIENTS
| No | Ingredient | Quantity | Measure Type |
| --- | --- | --- | --- |
| 1 | Water | 4 | Cup |
| 2 | Long grain rice | 2 | Cup |
| 3 | Salt | 1/2 | Teaspoon |
| 4 | Vegetable oil | 2 | Tablespoon |
| 5 | Cashews | 1/4 | Cup |
| 6 | Curry leaves | 10 | |
| 7 | Lime juice | 1/4 | Cup |
| 8 | Yoghurt | 1 | Cup |
| 9 | Dried chile peppers | 7 | |
| 10 | Mustard seeds | 1 | Teaspoon |
| 11 | Cumin seed | 1 | Teaspoon |
| 12 | Ground turmeric | 1 | Teaspoon |
| 13 | Tamarind paste | 2 | Tablespoon |
---
Recipe Details
This rice is a little sour and tangy, very traditional south Indian food. It is easy to make and one of my favorites. I hope you would enjoy it too. All the best.
---
Cooking Instructions
---
Garnishing Instructions
Garnish with the remaining nuts.
---
Serving Instructions
serve with plain yogurt on the side.
---
Related Recipes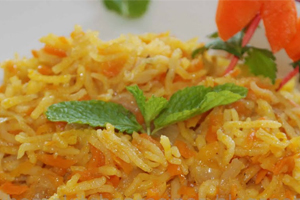 Carrot Rice
---
| | | |
| --- | --- | --- |
| Type | :&nbsp&nbsp | Vegetarian |
| Calories | :&nbsp&nbsp | 179 |
| Cuisine | :&nbsp&nbsp | Indian |
| Course | :&nbsp&nbsp | Main |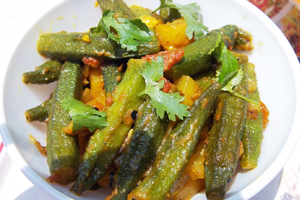 Indian Style Okra
---
| | | |
| --- | --- | --- |
| Type | :&nbsp&nbsp | Vegetarian |
| Calories | :&nbsp&nbsp | 126 |
| Cuisine | :&nbsp&nbsp | Indian |
| Course | :&nbsp&nbsp | Main |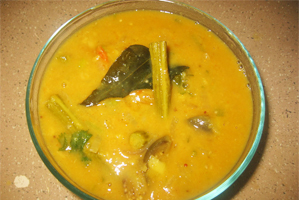 Sambar
---
| | | |
| --- | --- | --- |
| Type | :&nbsp&nbsp | Vegetarian |
| Calories | :&nbsp&nbsp | 306 |
| Cuisine | :&nbsp&nbsp | Indian |
| Course | :&nbsp&nbsp | Main |