Ground Beef Gyros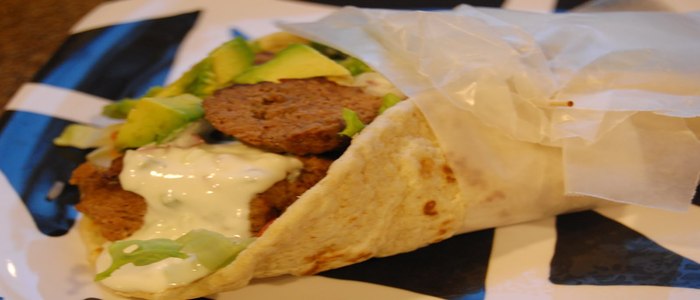 ---
| | | |
| --- | --- | --- |
| Cuisine | : | European |
| Calories | : | 436 |
| Type | : | Non Vegetarian |
| | | |
| --- | --- | --- |
| Serving Size | : | 4 |
| Course | : | Main |
| Preparation Time | : | 25 Min |
---
INGREDIENTS
| No | Ingredient | Quantity | Measure Type |
| --- | --- | --- | --- |
| 1 | Yoghurt | 8 | Ounces |
| 2 | Cucumber | 1/4 | Cup |
| 3 | Onions | 1 | Piece |
| 4 | Garlic | 1 | Clove |
| 5 | Sugar | 1 | Teaspoon |
| 6 | Ground beef | 1 | Lb |
| 7 | Oregano | 1 | Teaspoon |
| 8 | Garlic powder | 1 | Teaspoon |
| 9 | Onion Powder | 1 | Teaspoon |
| 10 | Salt | 1 | Teaspoon |
| 11 | Pepper | 3/4 | Teaspoon |
| 12 | Pita bread rounds | 4 | round |
| 13 | Shredded lettuce | 3 | Cup |
| 14 | Tomato | 1 | large |
| 15 | Onions | 1 | small |
---
Recipe Details
This is a great summer meal and quick and easy to put together and tastes wonderful.
---
Cooking Instructions
1.
In a bowl, combine first 5 ingredients.
2.
Cover and refrigerate.
3.
In separate bowl, combine ground beef and seasonings.
6.
Grill, covered, (you can also use a toaster oven or broil these) over medium to high heat for 10 to 12 minutes or until meat is no longer pink, turning once.
7.
Cut patties into thin slices.
9.
Add lettuce, tomato, and onion.
10.
Serve with yogurt sauce.
---
Garnishing Instructions
---
Serving Instructions
---