Gazpacho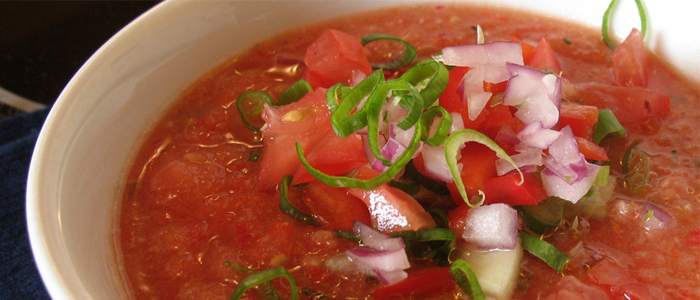 ---
| | | |
| --- | --- | --- |
| Cuisine | : | Spanish |
| Calories | : | 167 |
| Type | : | Vegetarian |
| | | |
| --- | --- | --- |
| Serving Size | : | 6 |
| Course | : | Soup |
| Preparation Time | : | 150 Min |
---
INGREDIENTS
| No | Ingredient | Quantity | Measure Type |
| --- | --- | --- | --- |
| 1 | Olive oil | 1/3 | Cup |
| 2 | Cucumber | 1 | |
| 3 | Onions | 1 | |
| 4 | Green bell pepper | 1 | |
| 5 | Black pepper | 1/8 | Teaspoon |
| 6 | Chives | 1/4 | Cup |
| 7 | Tomato juice | 12 | Ounces |
| 8 | Tomato | 2 | |
| 9 | Jar diced pimento peppers | 4 | Ounces |
| 10 | Red wine vinegar | 1/3 | Cup |
| 11 | Garlic | 2 | Clove |
| 12 | Hot pepper sauce | 1/4 | Teaspoon |
| 13 | Croutons | 1/2 | Cup |
| 14 | Salt | 1 & 1/2 | Teaspoon |
---
Recipe Details
A delicious cold soup, perfect for spring and summer!
---
Cooking Instructions
In a blender combine one tomato, half the cucumber, half the onion, a green bell pepper quarter, the pimento and 1/2 cup tomato juice. Blend at high speed for 30 seconds to puree the vegetables. In a large bowl mix the pureed vegetables with remaining tomato juice, 1/4 cup olive oil, vinegar, hot pepper sauce, salt and ground black pepper. Cover mixture and refrigerate until it is well chilled (about 2 hours). Meanwhile saute the croutons in oil and add the garlic; transfer to a small bowl.
---
Garnishing Instructions
garnish with chives.
---
Serving Instructions
Place remaining chopped tomato, cucumber, onion and green bell pepper in separate bowls. Serve soup in chilled bowls and serve chopped vegetables and croutons as accompaniments.
---