Dutch Croquetten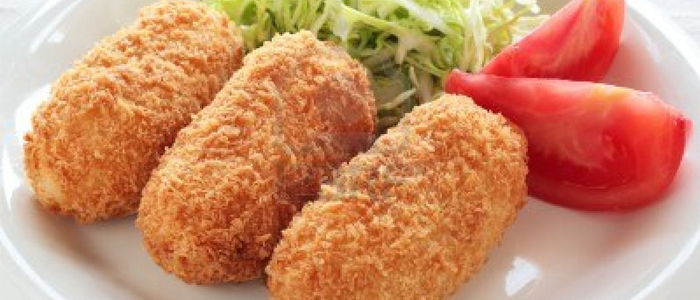 ---
| | | |
| --- | --- | --- |
| Cuisine | : | Dutch |
| Calories | : | 339 |
| Type | : | Non Vegetarian |
| | | |
| --- | --- | --- |
| Serving Size | : | 8 |
| Course | : | Main |
| Preparation Time | : | 25 Min |
---
INGREDIENTS
| No | Ingredient | Quantity | Measure Type |
| --- | --- | --- | --- |
| 1 | Lean ground veal | 1 | Pound |
| 2 | Butter | 2 | |
| 3 | All-purpose flour | 4 | |
| 4 | Milk | 1/2 | Cup |
| 5 | Paprika | 1/2 | Teaspoon |
| 6 | Red chilli powder | 1/2 | Teaspoon |
| 7 | Pepper | 1/4 | Teaspoon |
| 8 | Parsley | 1 | Teaspoon |
| 9 | Spiced Gouda cheese | 8 | Ounces |
| 10 | Water | 2 | |
| 11 | Vegetable oil | 1 | Cup |
| 12 | Chicken broth | 1/2 | Cup |
| 13 | Worcestershire sauce | 1 | Teaspoon |
| 14 | Seasoned bread crumbs | 1 & 1/2 | Cup |
| 15 | Egg | 1 | |
| 16 | Curry powder | (optional) | Teaspoon |
| 17 | All-purpose flour | 1/2 | Cup |
| 18 | Salt | 1/2 | Teaspoon |
---
Recipe Details
This yummy Dutch snack sure to please! Seasoned veal dumplings.
---
Cooking Instructions
Place ground veal in a skillet over medium heat. Cook, stirring to crumble, until evenly browned. Set aside. Melt butter in a saucepan over low heat. Stir in flour until smooth, and cook for about 2 minutes. Gradually stir in milk, then chicken broth to make a smooth thick sauce. Add the cooked ground veal, and season with paprika, chili powder, curry powder, salt, pepper , Worcestershire sauce, and parsley. Stir to blend well. Remove from heat, and set aside to cool to room temperature. Whe
---
Garnishing Instructions
Not Available.
---
Serving Instructions
serve hot.
---