Deviled Eggs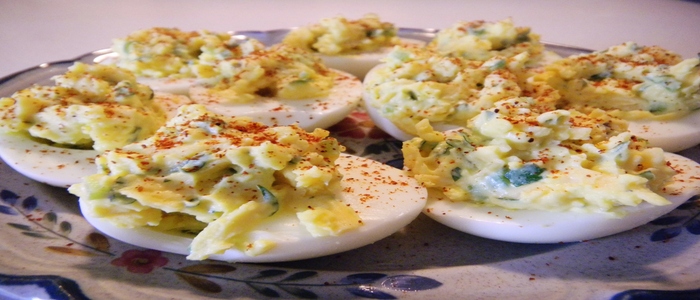 ---
| | | |
| --- | --- | --- |
| Cuisine | : | American |
| Calories | : | 59 |
| Type | : | Eggetarian |
| | | |
| --- | --- | --- |
| Serving Size | : | 4 |
| Course | : | Main |
| Preparation Time | : | 35 Min |
---
INGREDIENTS
| No | Ingredient | Quantity | Measure Type |
| --- | --- | --- | --- |
| 1 | Egg | 6 | Piece |
| 2 | Mayonnaise | 1/4 | Cup |
| 3 | White vinegar | 1 | Teaspoon |
| 4 | Mustard seeds | 1 | Teaspoon |
| 5 | Salt and pepper | 0 | As required |
| 6 | Paprika | 0 | As required |
---
Recipe Details
Deviled eggs. Easter egg hunts and summer picnic potlucks. I have been known to devour a dozen of these in one sitting. These were quick and easy. If you want them to be a little prettier, put the egg filling into a freezer bag, make a cut off of one corner of the bag, and pipe them into the egg white halves.
---
Cooking Instructions
Place eggs in a single layer in a saucepan and cover with enough water that there's 1 1/2 inches of water above the eggs. Heat on high until water begins to boil, then cover, turn the heat to low, and cook for 1 minute. Remove from heat and leave covered for 14 minutes, then rinse under cold water continuously for 1 minute.
Crack egg shells and carefully peel under cool running water. Gently dry with paper towels. Slice the eggs in half lengthwise, removing yolks to a medium bowl, and placing the whites on a serving platter. Mash the yolks into a fine crumble using a fork. Add mayonnaise, vinegar, mustard, salt, and pepper, and mix well.
---
Garnishing Instructions
Sprinkle with paprika and serve.
---
Serving Instructions
Serve cold.
---