Cranberry Spinach Salad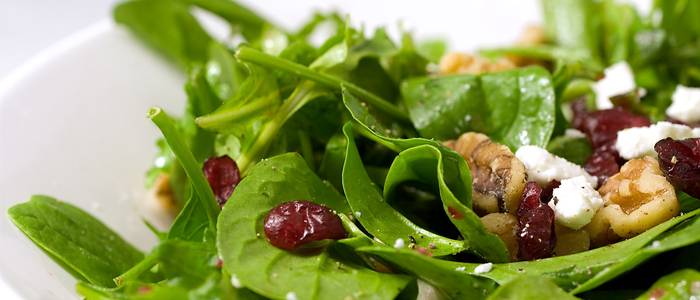 ---
| | | |
| --- | --- | --- |
| Cuisine | : | American |
| Calories | : | 338 |
| Type | : | Vegetarian |
| | | |
| --- | --- | --- |
| Serving Size | : | 8 |
| Course | : | Salad |
| Preparation Time | : | 20 Min |
---
INGREDIENTS
| No | Ingredient | Quantity | Measure Type |
| --- | --- | --- | --- |
| 1 | Butter | 1 | Tablespoon |
| 2 | Almonds | 3/4 | Cup |
| 3 | Spinach | 1 | Pound |
| 4 | Cranberries | 1 | Cup |
| 5 | Sesame seeds | 2 | Tablespoon |
| 6 | Poppy seeds | 1 | Tablespoon |
| 7 | White sugar | 1/2 | Cup |
| 8 | Onion | 2 | Teaspoon |
| 9 | Paprika | 1/4 | Teaspoon |
| 10 | White wine vinegar | 1/4 | Cup |
| 11 | Cider vinegar | 1/4 | Cup |
| 12 | Vegetable oil | 1/2 | Cup |
---
Recipe Details
Everyone I have made this for RAVES about it! It's different and so easy to make.
---
Cooking Instructions
In a medium saucepan, melt butter over medium heat. Cook and stir almonds in butter until lightly toasted. Remove from heat, and let cool.

In a medium bowl, whisk together the sesame seeds, poppy seeds, sugar, onion, paprika, white wine vinegar, cider vinegar, and vegetable oil.
---
Garnishing Instructions
In a large bowl, combine the spinach with the toasted almonds and cranberries.
---
Serving Instructions
Toss with spinach just before serving.
---