Citrus-Walnut Salad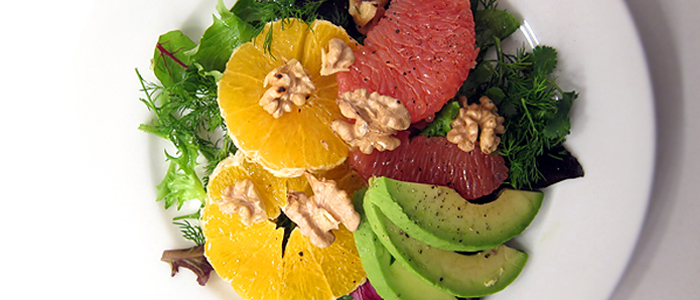 ---
| | | |
| --- | --- | --- |
| Cuisine | : | Cypriot |
| Calories | : | 125 |
| Type | : | Vegetarian |
| | | |
| --- | --- | --- |
| Serving Size | : | 8 |
| Course | : | Salad |
| Preparation Time | : | 30 Min |
---
INGREDIENTS
| No | Ingredient | Quantity | Measure Type |
| --- | --- | --- | --- |
| 1 | Walnut | 1/2 | Cup |
| 2 | Belgian endive | 8 | |
| 3 | Parsley | 1/2 | Cup |
| 4 | Cumin-Dijon Vinaigrette | | |
| 5 | Peeled | 2 | |
| 6 | Grape | 2 | |
| 7 | Sectioned | 2 | |
---
Recipe Details
This
salad
of grapefruit,
walnuts
and endive leaves is bursting with
citrus
flavor and festive colors - a great side dish recipe to perk up a meal.
---
Cooking Instructions
1. Preheat oven to 350°. Bake walnuts in a single layer in a shallow pan 6 to 8 minutes or until toasted and fragrant, stirring halfway through.
2. Remove and discard outer leaves of endive. Rinse endive with cold water, and pat dry. Cut each endive head diagonally into 1/4-inch-thick slices, and place in a serving bowl. Add walnuts, parsley leaves, and desired amount of dressing; gently toss to coat. Top with grapefruit.
---
Garnishing Instructions
Not available
---
Serving Instructions
Serve with any remaining d
ressing.
---