Chinese Shrimp and Tofu Soup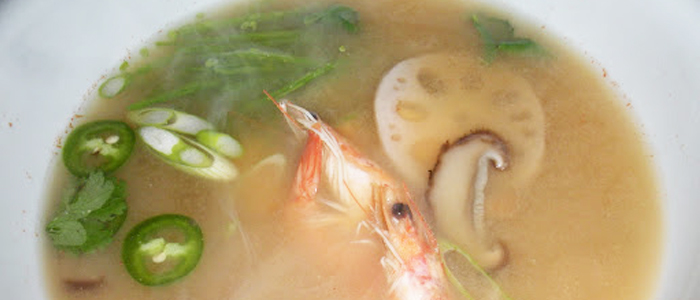 ---
| | | |
| --- | --- | --- |
| Cuisine | : | Chinese |
| Calories | : | 99 |
| Type | : | Non Vegetarian |
| | | |
| --- | --- | --- |
| Serving Size | : | 6 |
| Course | : | Soup |
| Preparation Time | : | 38 Min |
---
INGREDIENTS
| No | Ingredient | Quantity | Measure Type |
| --- | --- | --- | --- |
| 1 | Shrimp | 6 | Ounces |
| 2 | Chicken stock | 1 | Quart |
| 3 | Tofu | 8 | Ounces |
| 4 | Vegetable oil | 1 | Tablespoon |
| 5 | Peas | 1/3 | Cup |
| 6 | Salt | 1 | Teaspoon |
| 7 | Black pepper | 1/2 | Teaspoon |
| 8 | Garlic | 2 | Clove |
| 9 | Ginger | 1 | |
| 10 | Cornstarch | 1 | Tablespoon |
---
Recipe Details
This is a typical Chinese soup involving ginger, shrimp, and tofu. It is easy to make and fast! Good for cold weather too!
---
Cooking Instructions
Heat the oil in a large saucepan or wok over high heat. Cook the garlic and ginger until fragrant and lightly browned. Stir in the shrimp, and stir fry until cooked, then remove and set aside. Pour in the chicken stock and bring to a boil. Reduce heat to medium, add the tofu and peas, season with salt and pepper, then return to a simmer. Mix the cornstarch with a little water to form a thin paste. Stir the cornstarch into the soup and continue to simmer until clear and thickened, about 1 minute. 
---
Garnishing Instructions
Not available
---
Serving Instructions
Stir the shrimp back into the soup and serve.
---
Related Recipes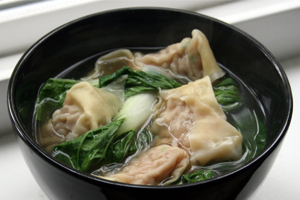 Wonton Soup
---
| | | |
| --- | --- | --- |
| Type | :&nbsp&nbsp | Non Vegetarian |
| Calories | :&nbsp&nbsp | 181 |
| Cuisine | :&nbsp&nbsp | Chinese |
| Course | :&nbsp&nbsp | Soup |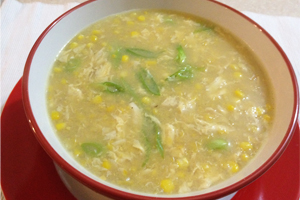 Chinese Creamy Corn Soup
---
| | | |
| --- | --- | --- |
| Type | :&nbsp&nbsp | Non Vegetarian |
| Calories | :&nbsp&nbsp | 157 |
| Cuisine | :&nbsp&nbsp | Chinese |
| Course | :&nbsp&nbsp | Soup |