Chicken Biryani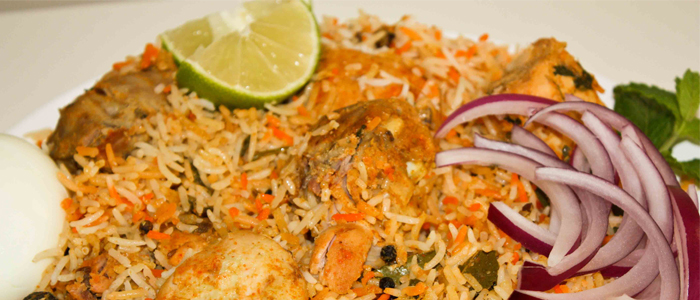 ---
| | | |
| --- | --- | --- |
| Cuisine | : | Indian |
| Calories | : | 390 |
| Type | : | Non Vegetarian |
| | | |
| --- | --- | --- |
| Serving Size | : | 6 |
| Course | : | Main |
| Preparation Time | : | 40 Min |
---
INGREDIENTS
| No | Ingredient | Quantity | Measure Type |
| --- | --- | --- | --- |
| 1 | Chicken | 1 | Kg |
| 2 | Basmati rice | 750 | Gms |
| 3 | Yoghurt | 250 | Gms |
| 4 | Salt | to taste | |
| 5 | Black pepper | 6 to 8 | |
| 6 | Onion | 4 | |
| 7 | White Zeera (Jeera) | 1 | Tablespoon |
| 8 | Elaichi | 4 to 5 | |
| 9 | Clove | 6 to 8 | |
| 10 | Red chilli powder | 1 | Tablespoon |
| 11 | Dalchini | 2 | |
| 12 | Zafran | 1/2 | Teaspoon |
| 13 | Oil | 2 | Tablespoon |
| 14 | Khewda (Essence) | 1 | Tablespoon |
| 15 | Ginger-garlic paste | 2 | Tablespoon |
---
Recipe Details
Spicy and mouth watering Chicken Biryani. Yummi....
---
Cooking Instructions
Half boiled Chicken.
In a cooking pot put Oil (Make it Hot) then Put Chicken, Red Chili Powder, Ginger Garlic paste and Onion
Then Put Yogurt, mix it well and let it be cook till 5 to 10 minutes. Then Put all remaining ingredients except Zafran and Khewda (Essence). and mix it well and keep side this. ( This is called Korma )
Boiled Rice (Boiled 90%, not Full) (Dont forget to Put Salt for rice)
Take another Big Pot and put 1st layer of Rice then put 1st layer or Korma then 2nd layer of and 2nd layer of Korma and last layer of Rice only. (3 layers of Rice and 2 layers of Koram)
The Put Khewda and Zafran on it and let be cook in very very Low Heat for 10-15 minutes.
You can Put Red and Yellow food Colours on each layer of Rice. (Optional)
Your Spicy Ckicken Biryani is Ready to Eat.
---
Garnishing Instructions
Not available.
---
Serving Instructions
serve Chicken Biryani with Raita
and kachumber
salad.
---
Related Recipes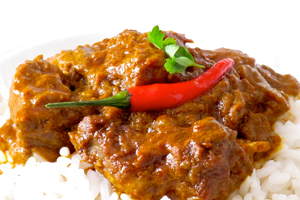 Kashmiri Lamb
---
| | | |
| --- | --- | --- |
| Type | :&nbsp&nbsp | Non Vegetarian |
| Calories | :&nbsp&nbsp | 489 |
| Cuisine | :&nbsp&nbsp | Indian |
| Course | :&nbsp&nbsp | Main |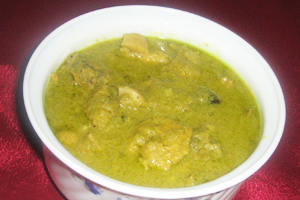 Spicy Indian Chicken with Gree..
---
| | | |
| --- | --- | --- |
| Type | :&nbsp&nbsp | Non Vegetarian |
| Calories | :&nbsp&nbsp | 190 |
| Cuisine | :&nbsp&nbsp | Indian |
| Course | :&nbsp&nbsp | Main |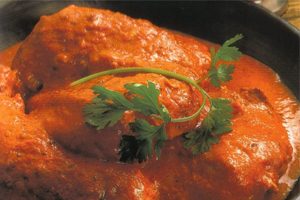 Chicken Curry (Murgh Kari)
---
| | | |
| --- | --- | --- |
| Type | :&nbsp&nbsp | Non Vegetarian |
| Calories | :&nbsp&nbsp | 427 |
| Cuisine | :&nbsp&nbsp | Indian |
| Course | :&nbsp&nbsp | Main |