Carrot soup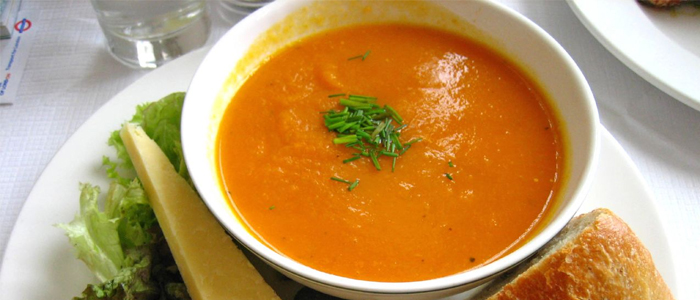 ---
| | | |
| --- | --- | --- |
| Cuisine | : | Indian |
| Calories | : | 96 |
| Type | : | Vegetarian |
| | | |
| --- | --- | --- |
| Serving Size | : | 4 |
| Course | : | Soup |
| Preparation Time | : | 25 Min |
---
INGREDIENTS
| No | Ingredient | Quantity | Measure Type |
| --- | --- | --- | --- |
| 1 | Carrot | 2 | |
| 2 | Potato | 2 | |
| 3 | Onion | 1 | |
| 4 | Butter | 2 | Tablespoon |
| 5 | Milk | 1 | Cup |
| 6 | Salt | to taste | |
| 7 | Black pepper | | |
---
Recipe Details
This carrot soup is a nice, quick soup to make. It looks appealing (no obvious lumps of vegetables!) and is full of goodness.
---
Cooking Instructions
pressure cook carrot and potato with some water.
make a puree of carrot and potato.
heat butter in a pan and add onions to this.cook till tender.
add prepared puree , milk , salt and pepper .
cook for some time.
---
Garnishing Instructions
Garnish with mint leaves.
---
Serving Instructions
Serve hot with bread sticks.
---
Related Recipes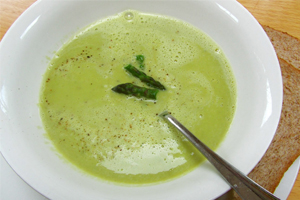 Fresh Asparagus Soup
---
| | | |
| --- | --- | --- |
| Type | :&nbsp&nbsp | Vegetarian |
| Calories | :&nbsp&nbsp | 167 |
| Cuisine | :&nbsp&nbsp | German |
| Course | :&nbsp&nbsp | Soup |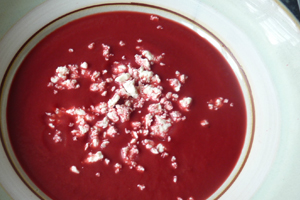 Tomato-Beetroot Soup
---
| | | |
| --- | --- | --- |
| Type | :&nbsp&nbsp | Vegetarian |
| Calories | :&nbsp&nbsp | 151 |
| Cuisine | :&nbsp&nbsp | Indian |
| Course | :&nbsp&nbsp | Soup |