Cabbage Pakoras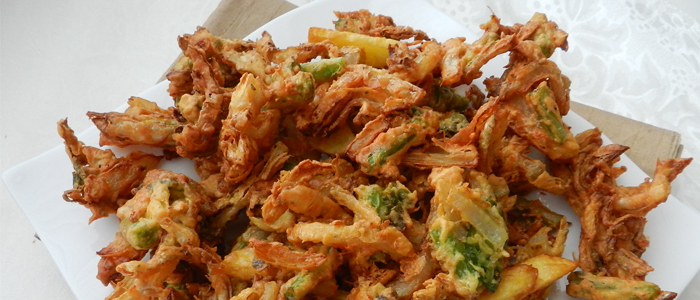 ---
| | | |
| --- | --- | --- |
| Cuisine | : | Indian |
| Calories | : | 66 |
| Type | : | Vegetarian |
| | | |
| --- | --- | --- |
| Serving Size | : | 4 |
| Course | : | Appetizer |
| Preparation Time | : | 30 Min |
---
INGREDIENTS
| No | Ingredient | Quantity | Measure Type |
| --- | --- | --- | --- |
| 1 | Cabbage | 1/2 | Cup |
| 2 | Onion | 1/2 | Cup |
| 3 | Coriander leaves | 1/4 | Cup |
| 4 | Salt | to taste | |
| 5 | White urad dal | 1 | Cup |
| 6 | Ginger-garlic paste | 2 | Teaspoon |
| 7 | Green chiliy | 1 | Teaspoon |
---
Recipe Details
This recipe is same as usual pakoda recipe. A batter is made from cabbage, onion, besan, rice flour with dry spices and fresh herbs and then spoonful of batter is deep fried to make delicious pakoras.
---
Cooking Instructions
Grind the soaked urad dal with salt and adding as little water as possible into a thick smooth paste.

Add the chopped cabbage, onions, green chillies, ginger & garlic paste and coriander leaves and mix into the ground urad dal paste.

Heat oil in a frying pan for deep frying the dal mixture.

Once the oil is well heated add the dal mixture using a scoop spoon into hot oil.

Fry the mixture until dark golden brown n medium high heat and drain on paper towels.
---
Garnishing Instructions
Not available.
---
Serving Instructions
---
Related Recipes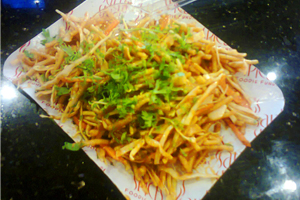 Noodle Bhel
---
| | | |
| --- | --- | --- |
| Type | :&nbsp&nbsp | Vegetarian |
| Calories | :&nbsp&nbsp | 73 |
| Cuisine | :&nbsp&nbsp | Indian |
| Course | :&nbsp&nbsp | Appetizer |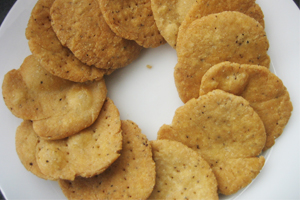 Mathri (Materi)
---
| | | |
| --- | --- | --- |
| Type | :&nbsp&nbsp | Vegetarian |
| Calories | :&nbsp&nbsp | 30 |
| Cuisine | :&nbsp&nbsp | Indian |
| Course | :&nbsp&nbsp | Appetizer |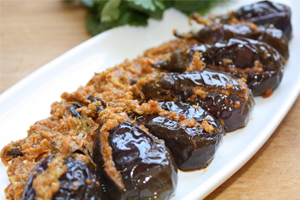 Stuffed Brinjal
---
| | | |
| --- | --- | --- |
| Type | :&nbsp&nbsp | Vegetarian |
| Calories | :&nbsp&nbsp | 163 |
| Cuisine | :&nbsp&nbsp | Indian |
| Course | :&nbsp&nbsp | Appetizer |