Authentic Italian Meatballs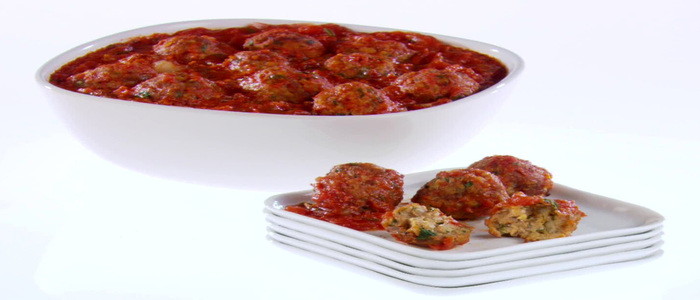 ---
| | | |
| --- | --- | --- |
| Cuisine | : | European |
| Calories | : | 59 |
| Type | : | Non Vegetarian |
| | | |
| --- | --- | --- |
| Serving Size | : | 10 |
| Course | : | Main |
| Preparation Time | : | 180 Min |
---
INGREDIENTS
| No | Ingredient | Quantity | Measure Type |
| --- | --- | --- | --- |
| 1 | Ground beef | 1 | Lb |
| 2 | Egg | 1 | Piece |
| 3 | Milk | 1/4 | Cup |
| 4 | Dried bread crumbs | 1/2 | Cup |
| 5 | Salt | 1/2 | Teaspoon |
| 6 | Oregano | 1 | Teaspoon |
| 7 | Parsley | 1 | Tablespoon |
| 8 | Garlic powder | 1/2 | Teaspoon |
| 9 | ground pepper | 1/2 | Teaspoon |
| 10 | grated parmesan cheese | 1/2 | Cup |
---
Recipe Details
Meatballs made with ground beef, veal and pork, with garlic and Romano cheese.
---
Cooking Instructions
1. Mix all ingredients in a large bowl by hand.
2.
Use your bare hands for best results.
3.
Roll meatballs to about the size of a golf ball.
4.
Drop raw meatballs into large (I use a stock pot) pot of sauce.
5.
(I have an incredible sauce recipe. I use for my meatballs).
6.
Simmer for about 3 hours.
---
Garnishing Instructions
---
Serving Instructions
---